Many believe that D'Andre Swift will be the first back off the board in the 2020 NFL draft.
The combine did Swift's stock favors by displaying the athletic profile that teams covet in a lead back, but what qualities does the former Georgia Bulldog possess that separates him from the top of this talented running back class?
1 - In-space movement tools
Swift's signature move.
Varying pace & angle width, then using his eyes to sell opportunity to the defender.
Causing a false step towards the 'opportunity' is an immediate win for the ball carrier.
Flash opportunity then....take it away.
In Swift, we have a unique, stylistic blend of dramatic movement skills.
Swift seamlessly chains these two flashes of opportunity together.
​
Again, Swift ruins multiple pursuit angles by stringing his 'flashes' together.
​
The abrupt nature in which he changes direction is difficult for defenders to handle in space.
Swift does this again, and again if you watch him on tape. (Watch how he ruins the pursuit of #13)
Often times I see Swift 'selling' the right side, rarely the left.
Would like to see him add a left foot led plant/flash into his repertoire.
​
Adding variation to an already effective movement quality is never a bad thing.
Weaponizing his spin move is something I would like to see him do as he makes his transition to the NFL.
​
At times you'll notice Swift turning through contact unnecessarily, neglecting the timing element that it takes to execute it properly.
2 - Skill set as a receiver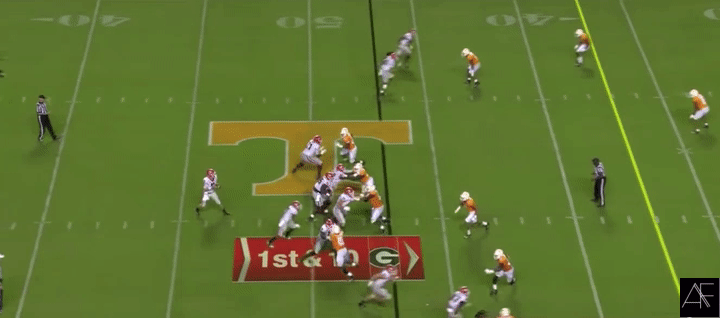 His versatility as a receiver will help him to become an immediate contributor for an NFL offense.
Swift is sure-handed & can create separation quickly in the short to intermediate areas.
We may see him run angle & option routes frequently at the next level.
He displays the ability to adjust mid-route and will use his quickness to his advantage when matched up against linebackers.
Swift is one of the best screen backs in this class and shows his skill by pausing the backer before the line of scrimmage.
Rarely does he make the wrong decision during one on one engagements. We also regularly see him showing the patience to allow his downfield blocks time to set up.
A great asset to have for any NFL offense.
Notice again, his tendency to use a right foot led plant to escape.
As a outlet option Swift should see instant success due to how difficult it is to coral him in space.
​
Even though I expect Swift to see a low aDot like most running backs he can seemingly turn a check down into a first down.
​
3 - Manipulating defenders & problem solving at the 2nd level
Swift has a high ceiling from a pure movement perspective. Often times he is on the dramatic side of the spectrum, but once he frequently combines drama with economy is when we will see him become a special runner.
Here he's manipulating the backer at the second level by keeping his hips level, then accelerating though a short plant once through the gap.
It's rare to see Swift showing this type of aptitude, however these sparks can bring an element of consistency in the near-future
​
This is one of those 'spark' play.
We see Swift time his cutback well and cause #32 to pursue the wrong side of the opportunity.
Swift is best in one on one, limited option opportunities.
​
Here we see #13 shading leverage inside, Swift quickly faking inside opportunity with the shoulder and then finishing the run in dramatic fashion.
​
Swift will be at his best when reads are 'black and white' and there is less information to process.
4 - Lateral to linear transitions
Swift often appears deceptive with his explosive qualities because of how fluidly he transitions and progresses from 'lateral to linear'
​
Swift gets downhill in a hurry and would benefit greatly from a sound zone blocking scheme.
Swift reacts well to unplanned problems and displays good feel when he is in space.
Reads boundary side pursuit by the defense, then creates his cutback line with a right foot led 'flash.'
​
Swift is a back with solid instincts to go along with his unique movement skill set.
Watch #31 here. When observing players in the open field it is important to recognize the cause and effect nature that movement has on the defender.
​
Often times, we will see defenders like #31 here, attempt to mirror the ball carrier instead of reacting to the unique situation on a given down.
​
This plays into the ball carrier's hand because in this situation Swift subtly decelerates causing a pause in #31's pursuit.
​
The 'effect' of this is an uncontested lane for Swift, and a touchdown for Georgia.
Swift is a good to great accelerator for the running back position and shouldn't have an issue putting a gap on defenders in the first 10-15 yards.
​
Oddly enough, his 0-10 yard split at the NFL combine was 1.56s.
Which is the opposite of what shows up on the field.
Swift mechanically is compact and a bit rigid, which may cause him to have issues at distances longer than 50 yards.
​
However, his strong capabilities during early acceleration set him up well and give him an advantage as defenders can struggle to obtain an angle on him early.
6 - Through contact issues & solutions
Arguably the most important trait for a running back is being able to efficiently receive contact & maintain efficiency through different contact types (high, low, direct, indirect)
Swift at times, impresses in how he navigates collisions. However, inconsistency can be an issue.
Swift's preference is to 'evade' rather than 'engage.'
There are times when he neglects to initiate contact which ultimately leaves yards on the table.
​
He has a tendency to turn through contact instead of keeping his shoulders square and fighting for additional yardage.
​
Does not 'engage.'
This is subtle, but watch how Swift stops his feet and decelerates right before contact.
​
With no solution other than engage the defender, decelerating and losing yardage shouldn't be an option.
​
More of an observation than a concern.
7 - Landing spot: Detroit Lions
Swift going to the Detroit Lions is difficult for a back that has already presented processing issues during his collegiate career. On top of Swift potentially splitting the workload with Kerryon Johnson we see the Lions offensive line struggling with consistency over the past few seasons. Swift is a great in-space player, and it will be up to Patricia to scheme him into advantageous situations.
8 - 'Who is D'Andre Swift?'
D'Andre Swift is a running back that fits the 'in-space' mentality that a lot of NFL offensive coordinators are now adopting. He is a dramatic mover who can be difficult to take down in the open field due to the suddenness he presents.
Swift struggles in some of the more nuanced areas of the running back position, but boasts an high ceiling once he has time to develop due to his ability to win consistently in space. Prioritizing scheming Swift in space could accelerate his development between the tackles. On the goal-line, Swift may struggle a bit due to his lack of well-developed anticipatory qualities and average play strength. Though a bit unrefined, he's an interesting blend of runner/receiver who can excel on schemed touches as well as in the short-to-intermediate passing game. His potential role and play style is similar to Arizona Cardinals' running back Kenyan Drake.
​
Collegiately, Swift only reached the 20 touch mark 8 times in 43 career games as a Bulldog. Swift is best when he can be his most efficient self which may mean a limited workload to begin his career. From a fantasy perspective, Swift should provide lineups with a functional option as an RB2 in 2020 with a chance to grow into an every week RB1 as he develops and refines his skill set. Again, I do not expect a large workload from Swift out of the gate, but I am fully anticipating him to make an impact in his Rookie campaign.
Best quality:
In-space skill set
Greatest area for improvement:
Manipulating the 2nd level with consistency