Height & Weight
5'9 -- 199lbs
Ascension grade
All-pro ceiling
67.36 -- RB #2
High-end traits (80th percentile & up)
Acceleration & Re-acceleration
Max Velocity
Skill set as a receiver
Anticipatory qualities
Movement economy
Suddenness
Field IQ
​
Low-end traits (30th percentile & down)
Through contact solutions
Force & short-yardage power
Schematic versatility
​
Stylistic comparison
Jerrick McKinnon meshed with Chris Johnson​
​
Projected role comparison
High efficiency/low volume rusher (Tony Pollard)
Secondary offensive receiving option (Christian McCaffrey)
​
Schematic fit
Outside zone heavy
Gibbs is a back that wins with his feet, not with his pads. His trademark skill is his fluid yet, sudden nature both in the open field and in tight spaces.
​
Nearly impossible to corral him in the open with how quickly he can transition upfield.
With a back like Gibbs you continually watch his downhill transitions.
​
Sets up defenders, then is consistently able to get inside of their MOF shoulder.
​
What is unique here is how he can immediately bend path back to the sideline as a rotational accelerator.
We see Gibbs read, set-up and manipulate the leverage of an engagement. Quick picture processor who can read and re-direct based on defensive flow & alignment.
​
There are a few plays in this Tennessee game where he had defenders grabbing air - fun to watch in such a big game for both teams.
​
Important to note - where Gibbs wins most efficiently is boundary side runs to set up cutback lanes. Averaged 7.4 yards per rush around the left end - you can see this on tape how easily he can push & re-accelerate off a left foot led plant.
Intellect is a word utilized in both of Gibbs stops collegiately, at Alabama & Georgia Tech. Smart, instinctive athlete who can set up desired lanes with his feet.
​
Will touch in this later, but watch his right shin on step three & four of this. Skid, bend, push to re-direct. Tough angles of operation to achieve, we see Gibbs utilize this as a runner and receiver.
​
Angles are dictators of function & action.
Let's start in the screen game with Gibbs. Two career drops on 123 career targets screams "reliable."
​
When you deploy him as a screen receiver he displays the open-field traits that lead to big plays.
Intellect, timing, play speed.
Reason I took a screenshot is so we can get a closer look at the right shin angle that Gibbs deploys as a tool in rotational acceleration.
​
Look how low to the ground that right shin is - swing like mechanism acts as a propulsive element.
​
Not many athletes have the strength, and lower limb stability to use these in game-like situations, let alone crucial drives like this one against the Longhorns.
​
When we look at Gibbs' receiving chart we see a lot of middle of the field wins. This is because arrow & angle routes are a near automatic first down since the aligned backer has Gibbs as his assignment.
​
19 of his 52 targets came in the middle of the field and within 10 yards of the line of scrimmage - he wins here like Alvin Kamara did when Sean Payton was his head coach.
Again we see how Gibbs operates in the middle of the field. The interesting part about plays like these that are littered on Gibbs tape is how he reacts to the downhill safeties & defensive backs.
Slippery mover, not force driven.
This is the type of work we see from the Rodgers to Jones connection in Green Bay. Gibbs spent 19% of his snaps either outside or in the slot as a Junior, and this is why.
Can operate as a traditional receiver in a scramble drill and has a great feel for space.
Parallels usage-wise as a receiver similarly to Christian McCaffrey with how seamlessly he can operate in the slot or on the boundary.
Has been charted at over 22.30 mph in-game which would be the third fastest in the NFL Next Gen Stats era.
​
Going to immediately impact an NFL return game with his field IQ & play speed.
Has the ability to lul an opponent to sleep then strike with efficiency.
​
Whether it's turning a corner, or shifting gears in-open space he has the intellect to understand what is "correct," to pick up hidden yards.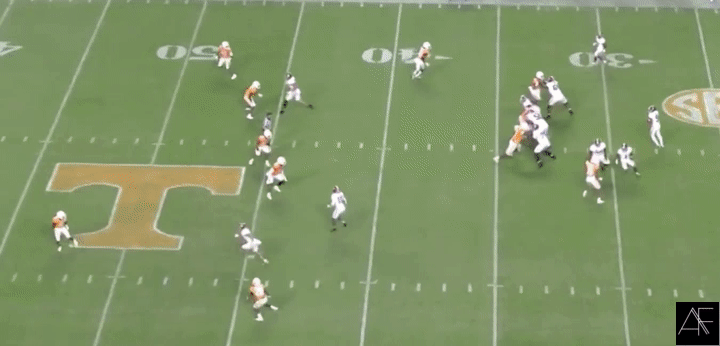 He's like a Formula One car in the open field - always has an answer for the unique situation.
​
Watch the subtle decel to accel at the 40 yard line.
​
Haven't seen someone re-enter acceleration this quickly since Chris Johnson.
Fun game to watch - Bama vs Arkansas with no Bryce Young.
Gibbs had two fifty + yard touchdowns in the second half, took over this game
Expectations & Range of outcomes
Size is a concern of the masses here, but we see that Gibbs handled more than 15 touches in 61% of his collegiate games which are numbers most similar to James Connor (59%), Christian McCaffrey (64%), Nick Chubb (64%.) Personally not concerned about the overall workload for Gibbs due to his high volume involvement as a receiver.
​
The expectation for Gibbs is a touch path similar to backs like Jerrick McKinnon & D'Andre Swift with the upside to earn a cornerstone role like Christian McCaffrey & Alvin Kamara.
Concerns & areas of development
With the way the NFL is trending, size is not a concern of mine in terms of durability, however low red-zone usage is an area where I can see Gibbs getting phased out. When you watch Alabama play this past season the closer they got to the goal-line, the more likely it was that Gibbs was not on the field. He's almost too good of an in-space player to let that be a high-volume part of his game similar to Swift & Williams in Detroit.