In the mold of Sterling Shepard -- meshed with the three-level skill set of Cooper Kupp.
Release variation & separation quickness
What's not talked about enough is Moore's ability to create late separation.
For someone who has only played the position for less than three full seasons, he does a great job developing space late in routes - with the body control to finish.
We see this again - but this time, space is created by his strong capabilities to re-enter acceleration.
1.46 from 0-10y at the NFL Combine puts Moore in the 99th percentile of combine athletes.
We see this show up frequently on the field in both pure acceleration and more importantly, re-acceleration.
Skip step - stutter - blow-by.
Have to always keep a safety over the top when Moore is in the slot.
Fades from inside positioning are a strong suit of his.
On inside breaking routes Moore snaps back to the middle of the field.
An extremely sudden mover who can re-enter acceleration in a blink - chains well from lateral to linear.
Love the speed skip into the inside breaking route.
Gets the defender off balance and accelerates away, creating an easy window.
Through break transitions
When watching Moore on in-breaking routes I enjoy how easy he makes it for the Quarterback to find a throwing lane.
Slight stutters, and pauses are what Moore deploys most frequently at the line of scrimmage. his suddenness into acceleration is his biggest asset.
Watch how quickly Moore snaps off his route. Sudden, abrupt mover.
Hard to defend, especially when given a two-way go.
The hand placement here under the right shoulder pad is what's impressive here.
​
Tactical nuance is something that was a surprise when you turn on Moore's tape - would never think he's been playing the position for less than three seasons.
In-air athleticism & Catch concentration
Despite his smaller stature, Moore performs well in contested situations.
Good body control, and strong hands at the catch point are elements you continually see with him.
First, watch how easily he creates space during early acceleration.
Gets to his spot in an instant - has the body control to high point the football and finish the play.
This is where Moore has the potential to be a #1 option in an NFL offense.
He wins on all three levels of the field, he's growing with his craft and is a natural in-air athlete.
​
Is he Cooper Kupp? No.
​
However, they are similar in how easily they can win at all levels of the field.
Play speed & yards created post catch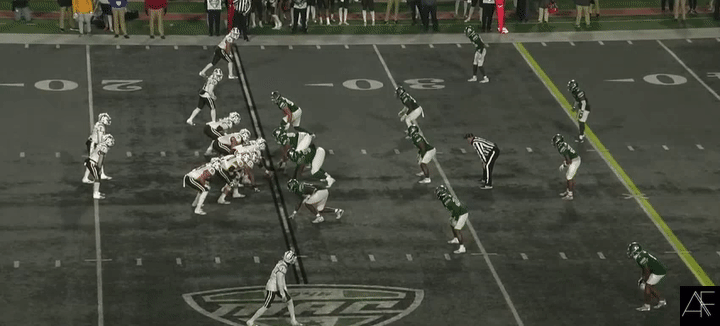 His movement skills aid him after the catch, however, Moore is also a tough athlete with a powerful lower half.
Important combination to have after the catch.
In terms of usage and role, we see Moore at X, Z, and in the slot, we have also seen him in the backfield.
Shouldn't be his primary NFL role, but speaks to his versatility.
We know Moore is a sudden decelerator - what you notice about this is how he sells the go extremely well - snaps back down to make the play coming back to the ball.
​
When you watch him, stop routes are a big part of his game with the added ability to create after the catch.
Tier 1: 75.00 & over -- Gold Jacket potential
Tier 2: 65.00 - 74.99 -- All-pro ceiling
Tier 3: 55.00 - 64.99 -- Pro-bowl ceiling
Tier 4: 49.98 - 54.99 -- High floor primary receiving option
Tier 5: 44.96 - 49.97 -- High ceiling / High-risk prospect
Tier 6: 39.50 - 44.95 -- Niche role player / spot producer
Tier 7: 39.49 & below -- Depth player with low ceiling