In the mold of Alex Collins -- meshed with the receiving skill set of Duke Johnson
The first thing I noticed with Ingram while he was at Texas - how broad his toolbox is as a mover.
Lots of 'wow' moments on tape.
Gifted laterally for 220+lbs, with the ability to effortlessly change direction & level in any situation.
Notice the level drop here at the line of scrimmage.
Impressive suddenness for his size, and it's important to state how much better Ingram holds his speed after dropping 8-10lbs when transferring to USC.
Love how Ingram sells boundary opportunity here.
Again, the capability to drop level and get inside of defenders is impressive at his size.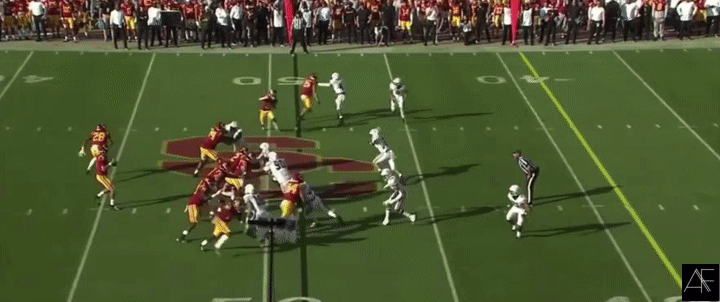 Ingram does a great job waiting for #2 to commit to the boundary then breaking back inside on his hip.
Like most right-handed individuals like Ingram, a left foot led plant is the most natural.
Left foot led plant into a contact led engagement here.
Can chain finesse & force consecutively.
Easy rep - but always good to see a back of his size anticipate openings and react when it comes.
Two things impressed me here.
1 - Anticipates the path of #34 & #28, manipulates them to where momentum overbears
2 - Steadies his plant to stay linear rather than drift towards the middle of the field
Really nice read & react rep from Ingram.
Reads the flow & reacts with a nice slalom inside.
Ingram likes to deploy a throw-by technique when defenders are over-pursuing.
Like how he handles the consecutive engagements.
Ingram is a multi-dimensional receiver with above-average capabilities tracking downfield passes.
Strong, soft hands - plays through contact well.
Deceptive, and urgent when he needs to be as a route runner.
Again, can play through contact and contort surprisingly well for a back of his stature.
After the catch, he diagnoses angles well in open space. We can see the power, and broad toolbox as a mover come into play.
Fun in space player. Love the change of speed to get around engagement one.
Through contact skill-set & short yardage capabilities
At 222lbs with good accelerative qualities - Ingram easily slips through arm tackles.
Can make defenders miss in succession with both finesse & force.
Ingram's urgency as a mover makes him difficult to bring down in singular engagements.
When evaluating backs and their through contact capabilities it's important to note how they do when engagements are consecutive. Can they be diverse?
In this case, Ingram can. Makes the defender miss with a right-foot led plant inside while simultaneously dropping his shoulder to prepare for the next defender.
Not a standout play, but one that NFL evaluators will make note of.
Loss of two into a gain of two.
Negating negative plays is important - especially when you are projected to be a Day 3 pick like Ingram.
Ingram's size and movement skill helps him gain an advantage in short-yardage situations.
While he can overcommit at times - if he calms his feet down and plays as fast as he processes he can be a solid NFL back.
Love the curvilinear capabilities from Ingram here. Does this well for 220 + .
Able to not decelerate while getting the corner - hard to do.
As a linear mover - he's above average in acceleration, average at max velocity.
Where he impresses the most is how well he negates deceleration between cuts.
Again, good capabilities in early acceleration, but may struggle with separation from safeties at the third level.
Good, not great play speed.
Tier 1: 75.00 & over -- Gold Jacket potential
Tier 2: 65.00 - 74.99 -- All-pro ceiling
Tier 3: 55.00 - 64.99 -- Pro-bowl ceiling
Tier 4: 49.98 - 54.99 -- Average to Above-average starter
Tier 5: 44.96 - 49.97 -- High ceiling / High-risk prospect
Tier 6: 39.50 - 44.95 -- Secondary committee option
Tier 7: 39.49 & below -- Depth piece with low ceiling