Career production | 34 games
Rushing:
366 attempts | 2,297 yards | 6.3 ypc | 29 touchdowns
​
Receiving:
50 receptions | 539 yards | 10.8 ypr | 4 touchdowns
​
1 - Movement toolbox & non linear athletic capabilities
As a mover, Williams falls into the 'sporadic - reactive' categories.
There is an element of urgency to everything he does, and this works well for him because of how efficiently he can chain together differing types of solutions during engagements.
Watch here when he gets tripped post-cut by the safety.
​
An element that is worth highlighting is how Williams uses a stumble reflex for a leverage advantage.
​
Now, this can work against you easily, but you see Williams regularly centering himself post-stumble and gaining additional yardage.
Again, the urgency from Williams when he sets up defenders.
Often you still see defenders get a hand on him, but that is never enough to bring him to the ground.
​
There isn't a big decelerative element to his game.
Not a ton of pausing and re-directing in traffic.
Williams is a force driven mover in both open & closed arenas.
2 - Skillset as a receiver
Williams grades out as an average to potentially a slightly above-average pass catcher.
​
While he doesn't have the advanced receiving capabilities of his classmates, Gainwell & Harris he is a functional pass catcher who can do damage in the open field on checkdowns and screens.
Williams is a smart football player, who is still growing into the position. He was a High School Linebacker & class Valedictorian.
​
Keeping his eyes to Howell while having the awareness to turn his hips and make himself an available target is impressive.
3 - Anticipatory qualities & Manipulating defenders
As Williams' timing and decision-making develop we will see him get to the second level with regularity.
​
Plays like this when he recognizes his pathway and the flow of the 2nd level are basic, but still good to see from a young runner.
Javonte Williams || Singular engagement - timing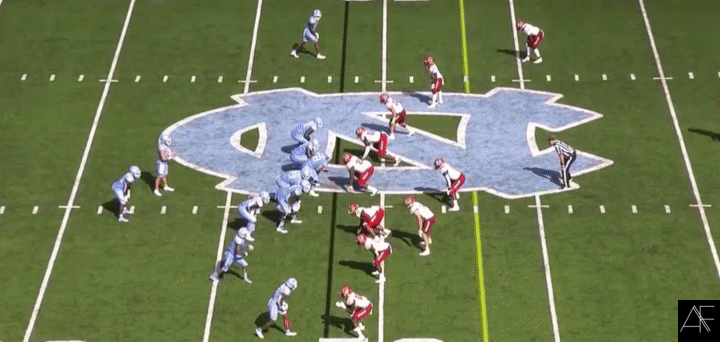 As mentioned, Williams is still young at the position, both in age & experience as a Running Back.
​
As he refines the timing element of his game and begins to learn how to set up his lanes he will become an even greater danger at the 2nd level.
4 - Capabilities during acceleration & at top-end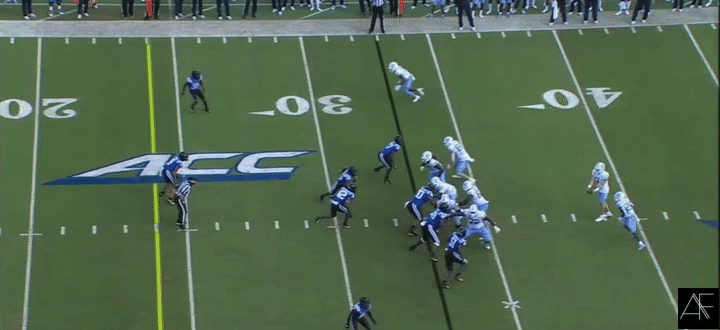 Williams is an above-average accelerator at the position, but it's how he uses his capabilities as an accelerator that makes this quality meaningful.
​
He accelerates with a recklessness that is going to give defensive backs an overwhelming feeling of dread when they are tasked with making a play on him in the open field.
He'll be able to get the corner on ends & backers. As far as top-end speed goes, Williams is adequate, but isn't going to run away from many safeties.
​
For the position, Williams is a good linear athlete.
Again, we see his qualities during early acceleration being weaponized at the second level.
​
Williams also shows fantastic timing when dropping his pad level to initiate contact. This is an element of his game that is appreciated when he accelerates.
5 - Through contact skillset
Williams has become known for being a violent, unforgiving runner, but it's the subtle qualities like the angular change in hip depth as the backer approaches that is the most impressive.
​
When #30 comes downhill at Williams he expects to square him up and make direct contact.
​
Williams shifts his weight towards the sideline to negate the wrap attempt and has the balance post-contact to finish the run.
Williams does a fantastic job in preparing for multiple engagements.
​
He knows that the boundary side defender won't be able to slow him if he maintains a linear path, so he uses a strict continuation and focuses on putting himself in the best position to win a force-driven engagement during the second of the two tackle attempts.
If you want to watch the Javonte Williams show turn on the Tar Heels 2020 game against Miami.
​
Love the quick peek inside to draw #6 off path at the line of scrimmage.
​
Notice the stumble reflex here as well post hurdle and how he drops immediately into acceleration afterward using the negative angles as a propulsive aid directly into #5.
​
When Williams gets downhill he is a runaway freight train.
​
If you're a member of the secondary, good luck.
Watch right before the line of scrimmage how Williams uses a burrow mechanism to get through indirect contact.
​
He's an energy-giving, culture-building, momentum-shifting player who always fighting for extra yards.
7 - 'Why Javonte Williams?' | Prospect podcast
Javonte Williams || Prospect podcast
Tier 1: 75.00 & over -- Gold Jacket potential
Tier 2: 65.00 - 74.99 -- All-pro caliber
Tier 3: 55.00 - 64.99 -- Pro-bowl caliber
Tier 4: 49.98 - 54.99 -- Above-average starter
Tier 5: 44.96 - 49.97 -- High ceiling / High-risk prospect
Tier 6: 39.50 - 44.95 -- Secondary committee option
Tier 7: 39.49 & below -- Depth piece with low ceiling