In the mold of Tony Pollard -- meshed with the economical solutions of Chase Edmonds.
Movement ecomony & manipulating defenders
It's the fluidity, and economy that makes Strong Jr. a top option in the 2022 Running Back class.
​
Extremely calm runner inside and outside of the tackles who can drop into curvilinear patterns to dip around defenders with efficiency.
When looking at the ecomonical solutions of a Running Back it's important to watch how they observe & react based on what the defense is doing.
​
#25 is flowing downhill towards the outside hip of the guard - Strong Jr, baits outside opportunity to create his lane - finishes the run by using his talents as an accelerator to outrun an already pursuing #3 post slalom.
When watching Strong Jr., you notice how easily he chains lateral to linear.
​
Covers a lot of ground when he cuts back and when he does so, he can enter linear acceleration simultaneously.
Economical solutions equaling open field opportunities.
​
Strong Jr. created a lot of opportunities for himself as a Jackrabbit by making timely, correct decisions.
​
Good luck catching him once he gets past the second level.
​
Over 1,100 yards - 11 touchdowns - 9.5 ypc as a Freshman, on less than 120 carries -- no matter what Division you play in, those are impressive numbers.
Negating contact and being able to just slip by defenders is something that is fun to watch when evaluating Strong Jr.
​
Now, Division 1AA isn't the NFL, but these traits are fantastic to see from a back with his surface-level capabilities.
Capabilities as an accelerator
What sticks out when you watch Strong Jr. is how quickly he gets to top-end speed even when he doesn't have a purely linear path.
Can bend & deviate path without losing speed, and an element that I see sporadically in his game is using his accelerative capabilities as a weapon through contact.
Backs that can change speed are more important than one-speed readers.
An efficient variance of pace, with the patience to finish off runs in the Red-Zone.
Again, we see the ability to use his capabilities in acceleration as a weapon through contact.
Would like this to be a consistent element of his game because it is one that will add some depth to his open-field skillset.
​
4.5 yards after contact per carry for his collegiate career, upper-tier numbers.
Abrupt is how I would describe Strong Jr. as an accelerator.
Hard to take an angle on him at the second level - gets to top-end in a hurry.
Through contact skill set & Anticipatory qualities
Notice how Strong Jr. prepares for contact - adept at dropping his shoulder to negate.
​
A bit inconsistent with low contact, but does well with direct contact.
Not a big part of his game, but Strong Jr. shows flashes of being able to create behind the line of scrimmage.
Not a large through contact toolbox - still can be a tough out as a ball carrier.
Strong Jr. is better through contact the closer he is to the line of scrimmage - can drop level well and get through arm tackles with ease.
He can struggle at the second level with shoestring-type tackles.
You see the shoe-string tackles being an issue here.
​
Yards can be left on the field if he doesn't avoid low-contact.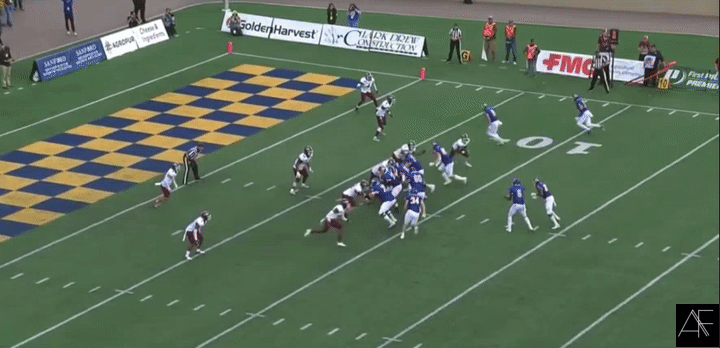 As a short-yardage back Strong Jr. is solid because of his efficiency.
​
Stays on schedule - can usually get through the first engagement.
Strong Jr. can run the full running back route tree and run it well.
​
Angle & option routes, screen game, seam & wheel patterns.
In the slot - top of the screen.
​
Unsure if this will be a big part of Strong Jr.'s NFL role, but he does have the patience & movement tools to rotate out to the slot and be a mismatch on backers & safeties.
This is the "can he do it against better competition?"
​
He can, and he proves that he belongs as an athlete.
​
Didn't have a high target share as a Jackrabbit, but has the capability to be a plus receiver out of the backfield and with dynamism in open space.
Tier 1: 75.00 & over -- Gold Jacket potential
Tier 2: 65.00 - 74.99 -- All-pro ceiling
Tier 3: 55.00 - 64.99 -- Pro-bowl ceiling
Tier 4: 49.98 - 54.99 -- Average to Above-average starter
Tier 5: 44.96 - 49.97 -- High ceiling / High-risk prospect
Tier 6: 39.50 - 44.95 -- Secondary committee option
Tier 7: 39.49 & below -- Depth piece with low ceiling